Best Hair Loss Shampoos for Women in Malaysia for 2020
Menopause can be a challenging time for most women and the people around them. During this period, a woman may find it extremely hard to cope with the changes happening inside of her as well as the physical symptoms. These symptoms include hot flashes, severe mood swings, disturbed sleep, a constant lack of energy, vaginal dryness and weight gain.
However, one of the most sudden changes associated with menopause is thinning hair. It occurs almost suddenly, making hair fall and thinning hair due to menopause a major cause of concern. It can also directly affect a person's confidence levels. But with the right care and the best shampoos and conditioners formulated for thinning hair, one can combat hair loss like a pro.

Listed below are the best shampoos for thinning hair due to menopause.

1. Revita High Performance Stimulating Shampoo Hair Growth Formula (205ml)
Revita's Hair Growth formula is a good shampoo for hair growth and hair thickening. This shampoo can help with those struggling with thinning hair due to menopause.
This shampoo helps prevents hair loss and improves the quality and thickness of the hair while being gentle to the hair and scalp. Your hair will feel thicker and softer after frequent use. This is because it contains a unique combination of active ingredients specially designed to stimulate the vitality and health of the hair and scalp.
The shampoo also contains Procyanidin B2, a powerful antioxidant. Niacinamide (vitamin B3) and copper peptides improve the blood circulation in the scalp. Caffeine inhibits DHT (dihydrotestosterone) and increases the blood circulation. The amino acids ornithine, taurine and cysteine and the vitamin Biotin are important for strong and healthy hair.
Paraben Free, Sulfate Free, SLS Free, Phtalates Free. Hypoallergenic.
Ratings : 4.1 / 5.0 - 684 Ratings on Amazon
Buy on Lazada
2. SMIB Shampoo For Oily Scalp & Hair Loss | SMiB Shampoo Review
Coral calcium to cleanse and calm your scalp
Reduces hair loss and promotes hair growth and hair thickening
Suitable for women facing hair loss due to menopause
4-step routine maximum effectiveness
The
SMIB innaBi Shampoo
is a popular shampoo that has sold more than 1 million sets in Korea.
Awarded the Best Hair Product
, Best Scalp Treatment and Beauty Insider's Choice by Beauty Insider 2020!
Did you know that the main reason for hair loss is because of an oily scalp? That is why SMIB uses the high-grade Coral Calcium which is very effective in removing excess oil and dirt in our scalps. The calcium is extracted from sea corals through the tedious process of electroplasticity. This is what sets SMIB apart as they are willing to go the extra mile for your hair.
For maximum effectiveness, it is recommended that you follow their 4-step routine for your hair. Besides the SMIB Shampoo, there is the SMIB innaBi Treatment which helps to stop hair loss. For the 3rd step, you can massage your scalp with the SMIB innaBi Scalp Massager. By using Plasma technology, it removes sebum, oil, and cleanses your scalp. For the final step, the SMIB innaBi Scalp Essence will nourish your scalp and promote new hair growth.
Finally, it is now
available in Malaysia
so that we can enjoy the benefits of an effective premium Korean shampoo that prevents hair loss. You can purchase it online directly from
SMiB
and it can be delivered to your preferred address in Malaysia.
Click through
this link
and stand a chance to win a shampoo!


Running your fingers through your hair and realizing just how thin it's becoming is a sad feeling. However, you can do something about it with this shampoo by Watermans.
Enriched with biotin, caffeine, and argan oil, this shampoo is formulated especially for strengthening, thickening and replenishing weakened hair. It works from ground zero by making hair follicles strong and improving scalp circulation, which directly leads to an increased hair density. The conditioner softens, moisturizes, and revitalizes hair. Along with this, it protects the hair, making it strong from the root to the tip. These products work wonderfully for all hair types and textures. It is not only recommended for women with thinning hair due to menopause but also for men suffering from premature hair loss.
Buy on Lazada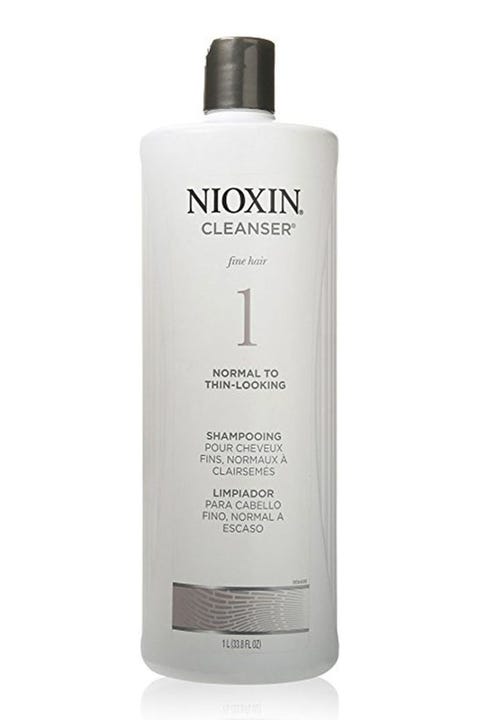 This is a good shampoo for women's hair loss as it is designed to remove oil and debris such as sebum, fatty acids and environmental residue which can block hair follicles. The System 1 Cleanser Shampoo by NIOXIN is suitable for normal to fine, thin looking natural hair. It gently removes product build up, clearing nutrient pathways to your scalp and hair follicle sites without stripping hair of essential oils.
Featured in
Elle
in 2020 as one of the shampoos recommended for hair growth.
Nioxin System 1 shampoo reviews at Lazada Malaysia: 4.8/5.
5. Kérastase Densifique Bain Densité Shampoo
Improve your hair with this gentle but thorough cleanser that'll restore resilience and strength. Ceramides protect against further stress while hyaluronic acid adds hydration and resilience.
Key ingredients:
Hyaluronic Acid: Natural salt that retains up to 1,000 times its weight in moisture. Hydrates and gives resilience and plumpness to the hair.
Gluco-Peptide: It enters the deepest layers of the cuticle to compensate surface irregularities and restore uniformity. Hair is texturized.
Ceramides: Strengthen the hair fiber.
Related Posts..