10 Best Anti Dandruff Shampoos in Malaysia for 2023
If you are looking for the best anti dandruff shampoo in Malaysia, you've come to the right place. It's a noisy world out there, especially when it comes to shampoo product advertisements. Finding one that works for you, however, can be easier said than done. But we're here to help.
Dandruff is common condition that causes flaky skin on your scalp. This skin often falls off, leaving white flakes on your shoulders.
Some people with dandruff go on to develop hair loss. Is dandruff to blame?
In most cases, dandruff doesn't directly cause hair loss. However, the itchiness it causes can lead to scratching. This can injure your hair follicles, leading to some hair loss, though not complete baldness. In addition, dandruff can increase hair loss in people with androgenic alopecia, a condition that causes male- and female-pattern baldness.
If you haven't already, try using a medicated shampoo designed to help with dandruff. Look for products containing any of the following ingredients:
pyrinthione zinc
salicylic acid
ketoconazole
selenium sulfide
For mild cases of dandruff, you may only need to use medicated shampoo for a few weeks.
If you have light-colored hair, you may want to stay away from selenium sulfide, which can cause discoloration.
Check out our list of anti-dandruff shampoos containing these ingredients or equivalent.

There are many online stores selling shampoos. It's best to check out the reviews and buy from reputable stores.
1. Nizoral Anti-Dandruff Shampoo
#1 Best Seller for the Shampoo and Conditioner category of Amazon Best Sellers with more than 25,000 ratings.
Nizoral anti-dandruff shampoo not only treats and prevents dandruff, but also the inflammation associated with dandruff, relieving scalp redness and itching. Its targeted action specifically treats the underlying cause of dandruff, yet it is pleasantly gentle to your hair and odour free.

Nizoral A-D kills the fungus that causes dandruff. That's because the ingredient called ketoconazole binds to the natural protein of your hair so it keeps working between shampoos with Nizoral A-D. Ketoconazole keeps nasty dandruff in check so you don't have to keep checking your shoulders. Nizoral A-D breaks the cycle because it puts the kibosh on P ovale.
Ingredients:
Ketoconazole 20 mg/g
Other Ingredients: Sodium Laurylether Sulphate, Disodium Monolauryl Ether Sulphosuccinate, Coconut Fatty Acid Diethanolamide, Laurdimonium Hydrolysed Animal Collagen, Macrogol 120 Methyl Glucose Dioleate, Sodium Chloride, Sodium Hydroxide, Imidurea, Hydrochloric Acid, Erythrosine (E127) and Purified Water.
2. Sebamed Anti-Dandruff Shampoo
Alkali-free
Soap-free
For gentle, pore-deep cleansing to alleviate excessive sebum
Formulation with pH5.5 give the scalp relief, without irritation
Active ingredient Piroctone Olamine relieves dandruff and irritation.
Allergen Free + OilFree + Paraben Free
Ratings and Reviews: 4.8/5
(
Lazada
)
3. Kerastase Bain Anti-Pelliculaire Shampoo
The 'Bain Anti-Pelliculaire' removes and treats the scalp preventing the recurrence of dry or oily dandruff for 8 consecutive weeks.
Ratings and Reviews: 5/5 (
Lazada
)
4. EGO Sebitar Scalp Cleansing Shampoo - For Itching and Inflamed Scalp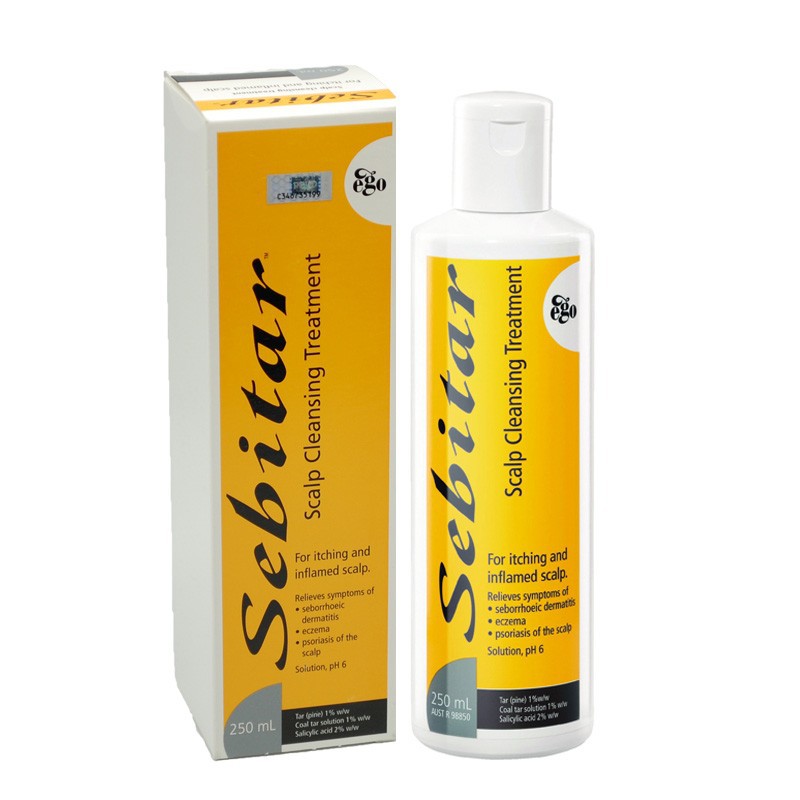 Sebitar also contains ingredients to control the flaking and dryness of the scalp as it gently cleanses the hair.
Unlike some other harsh dandruff and treatment shampoos, Sebitar treats the hair gently. It does not tangle or matt the hair or effect permed or tinted hair. Sebitar is gentle on a reddened or inflamed scalp, it should not sting or cause irritation. Sebitar has a pH of 5.5 to match the pH of the scalp and maintain its natural protection against infection.
In the case of psoriasis for further treatment apply EgoPsoryl TA to the scalp overnight and cleanse with Sebitar in the morning. Maintenance Program. As with dandruff and seborrhoeic dermatitis, Hair Science Shampoo and Conditioner may be used when the conditions such as scalp psoriasis and scalp dermatitis are under control.
Product Type: Scalp TreatmentsTreatment: Dermatitis & Eczema, Psoriasis
Instructions: Use twice weekly up to once daily if required. Wet hair. Apply to affected area. Massage well.
Apply more to remainder of scalp and hair. Work into lather. Leave for 5 minutes, rinse thoroughly.
Active Ingredients: Miconazole 2%, Tar (pine) 1% w/w, coal tar solution 1% w/w, salicylic acid 2% w/w. PRESERVATIVE: Benzyl alcohol 1%
Price: MYR 31.50 >
Buy on Lazada
5. Neutrogena T/Gel Therapeutic Shampoo (Original Formula Dandruff Treatment)
#8 for Best Hair Shampoo on Amazon Best Sellers.
#1 Dermatologist Recommended Brand
Free of alcohol, fragrance, color, preservative
Contains proven effectiveness of 2% Neutar Solubilized Coal Tar Extract
Relieves scalp itching, clears and prevent flakes and scalp build up
Controls the symptoms of dandruff, psoriasis, seborrheic dermatitis
Gentle for daily use
Ratings and Reviews: 4.7/5 (
Lazada
)


6. Selsun Blue Anti-Dandruff Shampoo - Best for itchy scalp
Eases your itchy scalp immediately
Menthol proven to work against dandruff
Softens your hair too
Ratings and Reviews: 5.0/5 (
Lazada
)
7. Pantene Anti Dandruff Shampoo - Best anti-dandruff shampoo for women
ANTI DANDRUFF SHAMPOO 340ml
Gently cleanses hair without drying the scalp, with weightless moisturizers that leaves hair healthy & shiny. Enhanced with Zinc Pyrithione to help prevent reoccurrence of dandruff.
Some anti-dandruff shampoos are very drying as aim to eliminate oil from your scalp. Not the Pantene Anti Dandruff Shampoo, it cleanses your scalp thoroughly without over drying it. That way, your scalp will have enough moisture and natural oils to maintain its health. Do note that a dry scalp can also cause dandruff – so it is crucial to keep a balance.

Do take note that this shampoo comes in various sizes: 170 ml, 340 ml and 670 ml.
Ratings and Reviews: 4.8/5 (
Lazada
)
8. Kerasys Anti-Dandruff and Sebum Control Shampoo
Anti-Dandruff and Sebum Control Shampoo 600g
Controls excessive oil
Provides deep cleansing action for a dandruff and itch-free scalp
Natural peppermint and menthol extracts refresh soothes the scalp and provides and aromatherapeutic effect
Antimicrobial extracts prevent fungal infections
Ratings and Kerasys Anti Dandruff Shampoo Reviews: 4.8/5 (
Lazada
- more than 100 customer reviews)
9. Head & Shoulders Cool Menthol Anti-Dandruff Shampoo
Cool Menthol Anti-Dandruff Shampoo 330ml
Dermatologically tested and ph balanced
Boosted with anti-oxidants for gentle hair and scalp care
Provides deep cleansing action to prevent dandruff and itchiness
Fights itchy, oily and dry scalps to prevent dandruff
Ratings and Reviews: 5/5 (
Lazada
)
10. Clear Extra Strength Anti-Dandruff Shampoo

Cool Menthol Anti-Dandruff Shampoo 650ml
Triple Anti-Dandruff Technology activates scalp's ability to remove, resist and prevent dandruff
Lipid Booster, powered by Sunflower Oil, is known to nourish, repair and restore scalp
Helps restore the function of scalp-skin barrier