10 Best Face Toners Malaysia 2022
Toners are frequently seen as a confusing element of the skincare routine. They are, nonetheless, incredibly simple to understand. A toner is a skincare product that is used in between cleansing and moisturizing. It's a mild hydrating liquid that absorbs quickly. It primes and prepares your skin to absorb another moisturizer or makeup product more effectively.
It will automatically tighten your pores and prevent rapid skin aging once it becomes a daily part of your skincare routine. Everyone, regardless of skin type, should use a face toner, but especially if you wear makeup or have oily or acne-prone skin.
Benefits of Using Toner Daily
i. Reduces the Appearance of Pores.
Your skin seems smoother and more polished when pores appear smaller. When applied on a daily basis, a toner can help reduce the appearance of pores, allowing you to go bare-faced with complete confidence.
ii. Aids in the Protection of the Skin From the Elements.
The purpose of facial toner is to keep your skin clean and free of environmental irritants.
iii. Temporarily Tightens Skin.
Certain ingredients have a brief tightening effect on the skin, bringing the pores taut, despite the fact that they do not change the pore size.
iv. Soothe and Rehydrate Your Skin.
A toner, especially one that is relaxing and moisturizing, may be able to aid. It's a stage that comes before serums and moisturizers that can help to calm the skin. Toners can also make your skin feel more renewed and regenerated, especially after a long day.
v. Inflammation Reduction.
Exercising or extensive workout sessions cause your skin to become overheated. Your skin may expand and become inflamed as a result. Toners can be the solution, they are convenient to carry anywhere and help you with this problem!
How to Choose the Right Toner for Your Face?
i. Toners for Oily Skin
Choose light formula and alcohol-free toner because alcohol may dry out your skin and results in producing more oil. It is recommended to choose Glycolic Acid and Clay as their active ingredients.
ii. Toners for Dry Skin
Look for humectants in toners to help your skin retain moisture; avoid astringents and exfoliants, since they will dry up your skin even more. Humectants attract and retain water in the upper layer of the skin.
iii. Toners for Combination Skin or Normal Skin
Mostly can use any toner, but best to seek toners that will help to balance the skin. Many balancing toners are designed to absorb excess oil while also delivering moisture, which should benefit combination skin.
iv. Toners for Sensitive Skin
It's best to choose an alcohol-free toner that's also mild and free of botanicals. Any harsh substance, including harsh natural plant extracts or essential oils, might irritate delicate skin.

Best Face Toners in Malaysia 2022
A. Best Toners for Oily Skin
1. COSRX AHA/ BHA Clarifying Treatment Toner
2. NUTOX Youth Restoring Astringent Toner
B. Best Toners for Sensitive Skin
3. Simple Kind To Skin Soothing Facial Toner
4. ONE THING Centella Asiatica Extract Toner
C. Best Toners for Dry Skin
5. Klairs Supple Preparation Unscented Toner
6. Neutrogena Alcohol Free Toner
D. Best Toners for Combination Skin
7. Ginvera Marvel White Refining Toner
8. Sukin Hydrating Mist Toner
E. Best Toners for All Skin Types
9. Best Exfoliating Toner Malaysia – Madagascar Centella Toning Toner
10. Best Toners for Brightening – Wardah Lightening Face Toner
A. Best Toners for Oily Skin
1. COSRX AHA/ BHA Clarifying Treatment Toner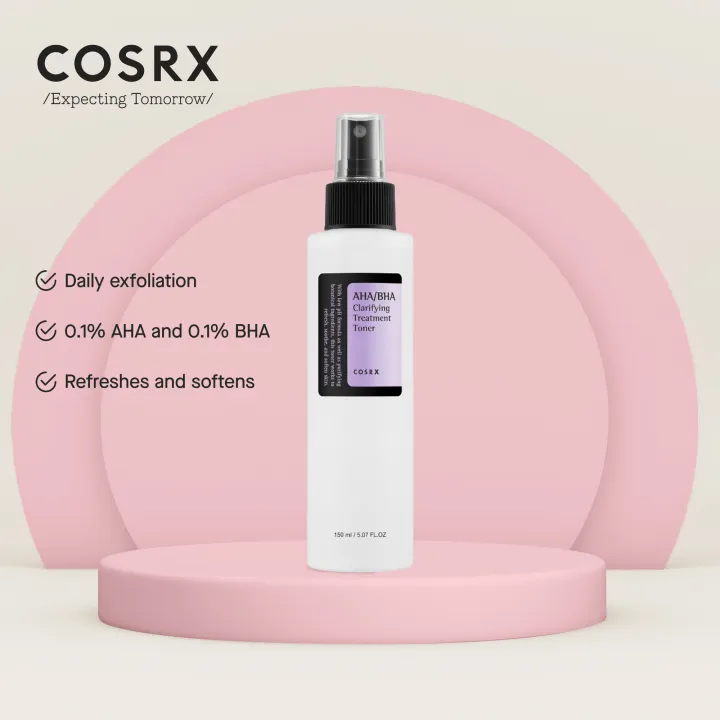 Formulated with AHA, BHA and skin purifying botanical ingredients, this low piH and extremely mild daily toner is here to help you achieve that clear, supple skin you always dream off Use this toner to soothe, refresh and soften the skin.
Toners for Acne Prone Skin:
Suitable for oily skin and combination skin users that have problems with acne!
Key Ingredient :
– AHA(glycolic acid) 0.1% – removes dead skins on the skin surface
– BHA(betaine salicylate) 0.1% – penetrates into pores and removes excessive oils and sebum
How To Use:
After cleansing, spray the toner onto a cotton pad and gently wipe onto face, avoiding the eye and mouth area. For use during the daytime, follow with a broad spectrum sunscreen with SPF 30 or greater.