5 Best Vitamin C Serums in Malaysia 2022
Vitamin C serum is a serum containing vitamin C that you can apply on your skin. This vitamin is vital for skin growth and repair. It helps with collagen production too.
Make up can cover blemishes but the
best vitamin C serums in Malaysia
can resolve what you're trying to cover up in the first place! All it takes is a few drops once a day to lighten blemishes, hyper pigmentation, acne scars, the start of wrinkles, dull skin, etc.
Vitamin C serums can range from RM35-100 for a small 30ml bottle. So be sure to check out the recommendations below for the best vitamin c serums you can get from the drugstore like Watson's or Guardian too!
Vitamin C serum has a wide array of benefits, and most of them are what we have been hoping for our skin. Even skin tone, blur fine lines, remove acne spots, and achieve a natural glow. Among all other skincare ingredients and products marketed these days, Vitamin C is simply the queen of them all. With this, we are excited to share with you our top picks of Vitamin C serum in Malaysia:
Best Vitamin C Serums in Malaysia 2021
1. Mad Hippie Skin Care Products, Vitamin C Serum, 8 Actives, 1.02 fl oz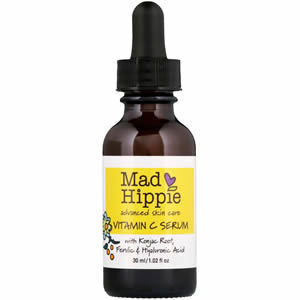 Mad Hippie is another popular brand for natural formulations, so it easily topped our list of Vitamin C serums. If we are to apply something concentrated as a serum on our face, it's reassuring to know that it comes from a brand trusted for its safe formulations.
Advanced Skin Care
With Konjac Root, Ferulic & Hyaluronic Acid
More Actives. More Results.
Vegan
Among its distinct ingredients is the Konjac Root, which according to studies is packed with nutrients, which results to smoother skin texture. It makes a perfect match for Vitamin C's effects on the skin.
2. InstaNatural, Vitamin C Serum, Anti-Aging, 0.17 fl oz (5 ml)
If you are new to Vitamin C Serum, the small packaging of InstaNatural is the best match for you. It gives you a potent Vitamin C concentration to help you experience first hand how it works for your skin.
Hyaluronic Acid
Sea Buckthorn Oil
Ferulic Acid
Plant Stem Cells
Not Tested on Animals
We love that it is derived from clean and natural ingredients, and is cruelty-free. We are also certain that you will be reaching out for another bottle in less than a month after using this one.
3. Azelique, Serumdipity, Age Refining Vitamin C Facial Serum, 1 fl oz
The formulation is gentle enough to use the serum both day and night. In fact, while being used to using Vitamin C during the day, including this in our nighttime routine gives us a really supple skin the morning after!
Stabilized Vitamin C
Brightens & Lightens Skin
Reduces Appearance of Fine Lines, Wrinkles & Age Spots
Promotes Biosynthesis of Collagen
We love that it comes in a darker bottle, as well. Vitamin C serums tend to change in consistency faster due to its nature to oxidize, but this packaging protects the product long enough until you finish the bottle.
4. Now Foods, Solutions, Purifying Toner, Vitamin C & Acai Berry, 8 fl oz (237 ml)
Who doesn't love a multi-functioning skincare product! Anything to skip the steps but still reap the benefits, and that what this purifying toner does.
Brightening System
Removes Pore Clogging Residue
Paraben-Free
Gluten-Free
Infused with a substantial amount of Vitamin C, you can already proceed to your moisturizer right away. Since it's in water form, your skin will also absorb it faster and better.
5. Advanced Clinicals, Vitamin C, Anti-Aging Serum, 1.75 fl oz (52 ml)
Promises advanced formulation that can reduce the appearance of age spots in a month with consistent use. The tandem of Vitamin C and Ferulic Acid also guarantees great anti-aging properties.
Promotes a Firmer Looking Complexion
Ferulic Acid Supports a Luminous, Youthful Radiance
K3 Vita C, a Proven Antioxidant Visibly Reduces the Look of Age Spots
Improves Skin Tone and Diminishes the Look of Wrinkles
Ferulic Acid, a Natural Antioxidant, Guards the Skin against Environmental Damage
The high concentration of Vitamin C can leave stingy feeling on the skin, but this contains aloe vera for a more soothing feel.
Related: Best Vitamin C Supplement Malaysia