Best Conditioner for Hair Loss Malaysia 2022
Conditioner is usually applied after shampooing. Shampoo is designed to remove sweat, dead skin cells, and hair products, conditioner makes hair softer and simpler to handle. It also shields the hair shafts from damage.
To make hair soft and pliable, conditioners contain fatty alcohols, humectants, and oils. Some contain protein to temporarily bind split ends, while others contain thickening agents to give hair a fuller appearance.
Can Conditioner Help With Hair Loss?
Many people misunderstand about conditioners and hair loss. Conditioners do not contribute to hair loss. If you think you're losing more hair after using a conditioner, it's because the conditioner helps detangle the tangled loose hair strands. So, basically, conditioner detangles weak strands that were going to fall anyhow, and you sense it as dropping hair after a wash. The best approach to detangle hair is to apply a conditioner. Use a conditioner after every shampoo to protect your hair from damage and breakage.
Does conditioner make hair grow faster?
Unfortunately, conditioner is not an overnight trick to make your hair grow faster. However, regular conditioning after each shampoo protects your hair from daily stresses. Conditioner may help reduce hair loss and strengthen your hair.
Moreover, leave-in conditioner, according to the manufacturers, may encourage healthy hair growth by keeping the product on your hair for longer and providing a heat protection barrier before blow-drying.
Best Conditioner for Hair Loss in Malaysia
1. TRESemmé Hair Fall Control Conditioner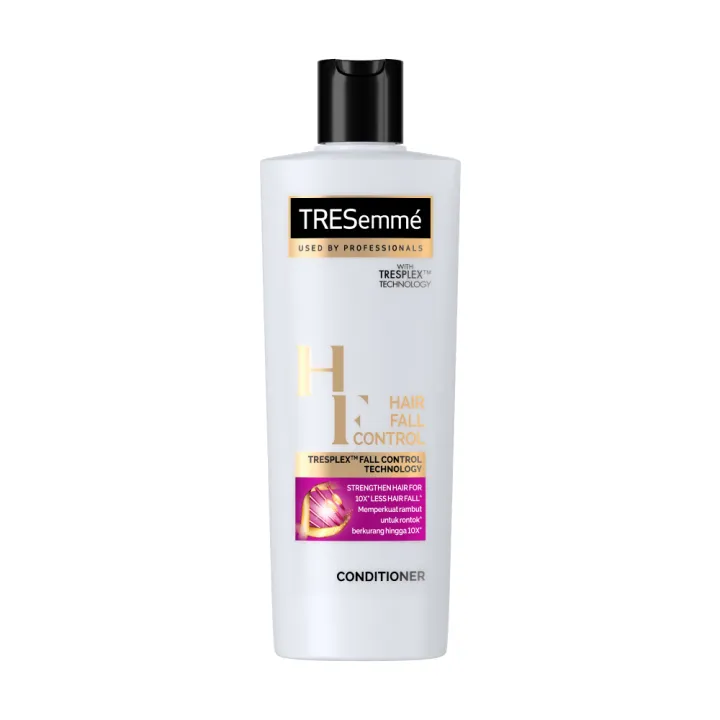 Specially formulated with Chia Seed Oil and Amino-Vitamin, TRESemmé Hair Fall Control shampoo reduces up to 98% of hair fall*, for 10x stronger hair. Use daily for runway standard hair with reduced hair fall* everyday.
*hair fall due to breakage. Based on lab test, with TRESemmé Hair Fall Control Shampoo and Conditioner vs non-conditioning shampoo.