8 Best Leave-in Conditioner in Malaysia 2022
Leave-in conditioners, also known as no-rinse or leave-on conditioners, are applied to your hair after you've washed it and before you style it. They're most commonly used on towel-dried hair.
They aren't washed out like ordinary conditioners. Leave-in conditioners add moisture to the hair while also protecting it from damage and detangling the strands.
Leave-in conditioners can benefit nearly for any hair type — curly or straight, natural or color-treated — but they may be especially beneficial if you have dry, damaged, or frizzy hair and used before use heat-styling tools.
How to Use Leave in Conditioner?
You can either replace normal conditioner with leave-in conditioner, or use both of them. Someone with dry or damaged hair is usually recommended to use both to help repair their hair faster.
It's preferable to apply the product when your hair is still damp. For optimum results, follow the steps below, but make sure you read the instructions on the bottle:
• After shampooing your hair in the shower, thoroughly rinse it.
• If you want to use a regular conditioner in the shower, do so after you've rinsed your hair thoroughly.
• After exiting the shower, gently pat your hair dry with a towel to remove excess water.
• Follow the directions on the packaging to apply a small amount of leave-in conditioner to your hair.
• Brush your hair with a brush or comb to detangle it.
• Allow your hair to air dry or be styled anyway you choose.

Best Leave-in Conditioner in Malaysia
1. Sukin Natural Balance Leave-In Conditioner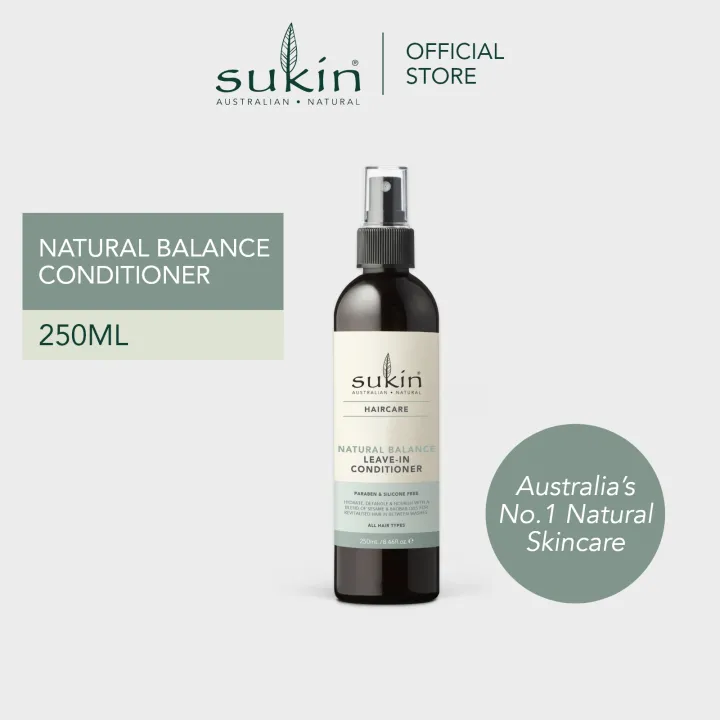 Our lightweight Leave-In Conditioner hydrates, gently detangles and tames frizz leaving hair smooth and manageable. With a balanced blend of Horsetail, Burdock & Nettle to nourish hair in between washes. Sesame & Baobab Oils enhance natural shine instantly leaving hair looking healthy and revitalised.
The Ingredients:
• Nettle Leaf Extract: Botanical extract that aids in adding shine and vitality to hair
• Bamboo Powder: Bamboo spheres roll over the surface of the skin to pick up dirt and impurities from the pores
• Horsetail: High content of Silica, leaving the skin smooth, soft, and hydrated